It comes often that some projects requiring expensive tool cost, such as projects need big rotational molding tool,  blow molding mould, or large thermoforming tool, especially the injection molding tool whether it is big or small, it is quite expensive on the tooling, under such circumstances, when you looking at a low volume production, it is not cost effective compared to the invest on the tooling.
Ego Manufacturing Group is specialized in prototypes and low volume plastic parts. Our technologies for manufacturing low volume plastic parts are mainly CNC machining, 3D printing, and silicone molding.
CNC machining is usually highly recommended for low-volume manufacturing services, except if it is imperative to use the real plastic material. Indeed, CNC machining does use the real plastic material while vacuum casting employs an equivalent, albeit offering very similar physical and mechanical characteristics.
As a matter of fact, our main process for low volume plastic parts production is cast urethane parts due to the fact that above ten parts, it overtakes CNC machining in terms of interests (price and lead time). The main reason is that tremendous economies of scale are generated thanks to the tooling.
---

 Advantages of silicone molding for low volume plastic parts production
The silicone mold can be used several times, usually up to 20 thus offering an important gain of time and money over other technologies for small batch of plastic parts and prototypes. What's more, the mold can be store several weeks thus enabling to put a production on hold. Another advantage is that once the mold is produced, a part can be done in several copies with various materials. It is possible to do several degrees of shore for instance when it comes to soft parts.
Low volume plastic parts made out of molding polymers may have various final utilizations. They may be used for technical tests, or produced with the idea to be sold in B2C.  In case of emergency, vacuum casting fits for the production of spare parts. Another advantage of silicone molding is the fact that several copies of a same reference may be used to undergo various tests where each of them requires a new part. Moreover, flexible parts may be produced thanks to elastomers materials.
---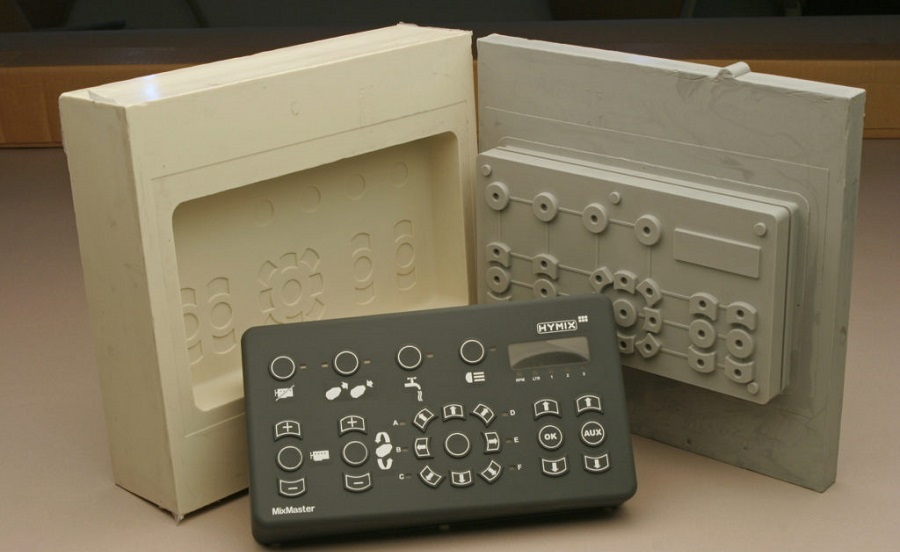 Silicone molding process in chronological order
a. A three dimensional model of the prototype is designed on CAD files.
b. A master model is machined or 3D printed from the drawings.
c. A mold is produced by encasing the 3D printed model inside silicone rubber.
d. An oven is used to cure the mold. The master model and the mold are separated, thus freeing the mold cavity.
e. The mold is inserted inside a vacuum machine where the plastic liquid is injected.
f. The mold is cured once again to solidify the casting resins.
g. The polyurethane part is removed from the mold, which can be used to start over the process.

 Silicone mold materials
Materials used in vacuum casting offer different properties and are mainly the following: polyurethane casting rubbers, polyurethane casting plastics, silicone rubbers, urethane rubber, urethane resins, epoxy casting, polyester and epoxy resins.
Characteristics differ from one material to another. Here are some properties which have an impact on the produced parts:
a. Cost: silicone mold rubbers are more expensive than polyurethane rubbers
b. Mechanical and chemical performance: Chemical resistance, Abrasion-resistance, stiffness, corrosion resistance…
c. Elongation properties
e. Degree of viscosity
f. Hardness: elastomers are used to create flexible parts
g. Color: some materials are naturally black or white, and can offer different level of transparency
From prototype to production, Ego Manufacturing has the ability to elevate and accelerate our customer's needs and scheduling demands with ease.  Whether it is an emergency change to a part or rushed delivery, we welcome the challenge.  Industries served include automotive, aerospace, agriculture, defense and appliance industries and are always expanding.